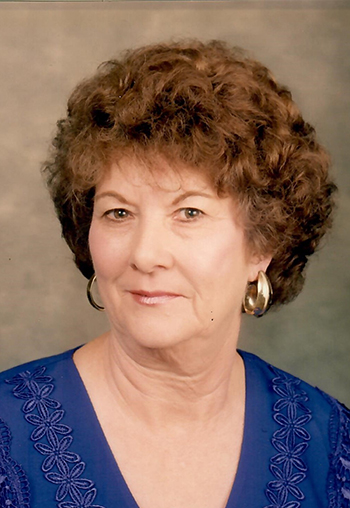 Eula Faye Harber, 87, of Fairfield, gaining her angel wings on Sunday, September 18, 2022 in Fairfield. Visitation will be 6:00 pm to 8:00 pm Wednesday, September 21, 2022 at Capps Memorial Chapel. Funeral services will be 10:00 am Thursday, September 22, 2022 at Capps Memorial Chapel with Bro. Dick Pickens officiating. Interment will follow at Fairfield Cemetery. Pallbearers are Derek Scott, Spencer Scott, Chad Scott, Cody Scott, Brent Scott and Blake Scott. Honorary pallbearer is Cody deCordova.
Eula Faye was born on January 5, 1935 in Fairfield, to parents Forrest and Ethel Utsey Jones. She married Lee A. Scott on April 12, 1952 and the marriage produced five children. Faye was known for her love of beautiful homes and built several over the years in the Houston area and here in Fairfield. She had a knock for design and decorating. She always said that paintings and pictures on the walls and plants completed the home.
Gardening was something she did with pride. She loved having a beautiful yard with many plants and flowers. In her younger years the yard is where you would find her hoeing around flower beds and watering the grass. Her favorite plant was the orange Hibiscus. She was also known for her love of making flower arrangements. She took pride in displaying them in her home, making them for family members and also placing them on the graves of her loved ones.
Her biggest joy in life was the love she had for the five children she raised. People were always amazed at how she managed a job or two, a home cooked meal on the stove and always a clean house and yard. She enjoyed cooking for her family and having get-togethers for any occasion. Thanksgiving and Christmas were always celebrated BIG. Faye worked in the food service industry for many years beginning at a young age. While working in a restaurant here in Fairfield long ago is where she met Lee Scott and they were eventually married. She worked as food service manager for more than ten years at the TDCJ Coffield Unit in Palestine, Texas. She worked at Sam's restaurant for more than fifteen years; after retreating she was a caregiver for the elderly and really enjoyed doing that. Faye attended church in Fairfield until her health declined.
In addition to her parents, she was preceded in death by two brothers, Donald Jones and Paul Jones; a son, Jimmy Scott and two grandchildren, Joshua Scott and Stacey Scott.
Left to cherish her memory are her children, Danny Scott, Randy Scott, Larry Scott and wife Brenda; a daughter, Kathy Singleton and husband John; three brothers, FE Jones, Clifford Jones, Lee Aulton Jones; two sisters, MaeDell Metzgar and husband Dick and Diana Hagen all of Fairfield. Faye also leaves behind 14 grandchildren and 24 great-grandchildren
To view an online obituary, send a personalized sympathy card, or leave the family a personal tribute, please visit our website at www.cappschapel.com