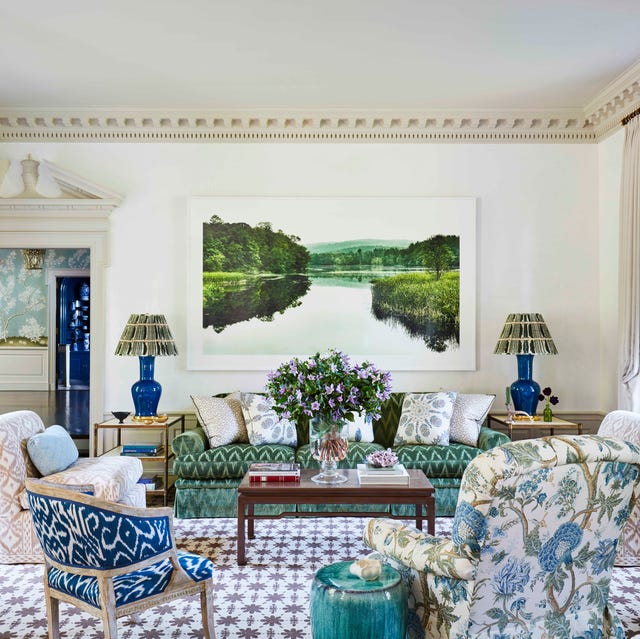 Thomas Loof
Don't let anyone fool you—there's nothing boring about today's neutral paint colors. While there are certainly designer-favorite whites, beiges, and grays, lately shades of blue, yellow, and even green have joined the ranks providing solid backdrops for the parade of patterns and sculptural furniture filling our homes. Their endless versatility and ability to work with countless styles cement these new neutral paint colors as invaluable decorating tools.
Though finding the perfect shade for your fashionable living room or soothing bedroom can seem a bit daunting, there are so many neutral paint colors to choose from with countless undertones. Choosing the wrong shade could disrupt the entire atmosphere and flow of a room. "The neutral needs to pick up on some of the underlying tones of the main colors in the room," says Connecticut-based designer Virginia Tupker. "For instance, if the room is mostly yellow, blue, gray, or pink, the neutral color you select should reflect that."
Luckily, several designers from the country's most revered design firms shared their go-to shades of white paint colors, serene blues, and other neutrals, along with a few secrets to finding the best neutral paint color for your home. These hues are sure to make your chosen space feel more inviting, comforting, and calming whether you choose to fill it with colorful pieces or other subtle tones.
Advertisement – Continue Reading Below
1
Dune White, Benjamin Moore
"Neutrals can really go in so many directions, but for me, it's about how the color reflects and absorbs the light in a room and works with the things in it. My favorite go-to neutral is Benjamin Moore Dune White CC-70. It's the perfect backdrop for any room as it can feel modern or traditional while letting the art and furnishings take center stage." — Philip Mitchell, Philip Mitchell Design Inc.
Get the Look
2
Seapearl, Benjamin Moore
"A neutral that I have enjoyed most recently is Sea Pearl by Benjamin Moore. The color doesn't read too creamy or gray, which is a designer's perfect neutral. It's crisp and fresh in daylight and keeps its clarity at night. I have been pleased with this color on a few current projects." — Gray Walker, Gray Walker Interiors
Get the Look
"One of my favorite neutral paint colors is Benjamin Moore's Nimbus. A true 'greige,' Nimbus is a great alternative to white and appears warmer or cooler depending on the amount of light in the room. Much of my home is painted this color, and it makes the perfect creamy backdrop for our furnishings." –Marie Flanigan, Marie Flanigan Interiors
Get the Look
4
Lake Placid, Benjamin Moore
5
Agreeable Gray, Sherwin Williams
"This shade works nicely with cooler tones without making the room feel too violet, or too cold—something that can happen quite easily when working with cooler whites and grays." —Kathleen Walsh, Kathleen Walsh Interiors
Get the Look
"Applesauce Cake by PPG can run the visual gamut of playing like warm honey on the walls to an understated tan depending on how the light hits it throughout the day." —Corey Damen Jenkins, Corey Damen Jenkins & Associates
Get the Look
7
Decorator's White, Benjamin Moore
"Truthfully, we don't use many neutral paint colors, as we're avid lovers of colors, but our go-to colors are Benjamin Moore Decorator's White and Sherwin Williams Agreeable Gray. I use neutral paint when other elements of the room will be colorful and dominate. For example, if we have a yellow sectional in a family room, we likely will keep the walls relatively neutral. —Kelly Finley, Joy Street Design
Get the Look
8
Slipper Satin, Farrow & Ball
"One of our favorite neutral paint colors is Farrow & Ball Slipper Satin. It has a great chalky white hue with warm taupe undertones that brings to mind peeling plaster walls and well-worn painted wood floors. We've used it in homes as the main wall color to bring warmth to the walls against modern cabinet silhouettes and wood finishes." —Jean Liu, Jean Liu Design
Get the Look
9
Lennox Tan, Benjamin Moore
"I adore Lennox Tan by Benjamin Moore because of its warm gold color. When I'm in a room painted HC 44, I feel as though I'm wrapped in a vicuna coat. Every color looks luscious with it. I have my home office in Dallas painted Lennox Tan with a tobacco mohair sofa and beautiful aubergine suede pillows, an ivory mid-century Italian style chair from my furniture collection, and another vintage chair upholstered in a gold, white, and tobacco horizontal stripe. These all sit upon a custom Stark leather bound rug. I love the aubergine and pink accents in the room against Lennox Tan." –Jan Showers, Jan Showers Interior Design
Get the Look
10
Pointing, Farrow & Ball
11
Downpipe, Farrow & Ball
"Down Pipe is a blue tone, real middle-of-the-road [shade] that isn't overpowering. It's a great 'supporting cast member' to other colors in a space." —Joy Moyler, Joy Moyler Interiors
Get the Look
12
Single Cream No. 9901, Farrow & Ball
"I have always been in awe of the historic limestone facades in Paris, and on one of my visits years ago, I took time to find paints that would give a similar translation in my interiors to this natural stone. Farrow and Ball's Single Cream was a favorite discovery due to its close match to historic stone and its wonderful warm glow while still keeping the walls light and bright. Single Cream has not only worked in my projects that are more transitional due to its clean and simple palette but also as a backdrop color for very traditional interiors where I pull strong colors in fabrics and other room elements to create a beautiful contrasted room." —Carolyn Kendall, Alcott Interiors
Get the Look
13
Wimborne White, Farrow & Ball
"Wimborne White by Farrow and Ball is one of my favorite off-whites. It adds a lot of depth and softness to a space for a white, which makes it a perfect color for all rooms of a home. Soft whites are more warm and welcoming and allow other design elements of the space, like the fabrics and decor, to pop. I especially love to use it in entryways and display a statement piece of art to offer guests a wow factor right when they walk through the door." — my Kartheiser, Amy Kartheiser Design
Get the Look
14
Grant Beige, Benjamin Moore
"Benjamin Moore's Grant Beige HC-83 is an incredibly versatile choice for contemporary, modern, and traditional interior applications. Both [Grant Beige and Applesauce Cake] are true winners, especially when paired with neutral polar opposites like Benjamin Moore's Decorator's White and Sherwin William's Onyx Black." —Corey Damen Jenkins, Corey Damen Jenkins & Associates
Get the Look
15
Super White, Benjamin Moore
16
Peignoir, Farrow & Ball
"We're also crushing on Farrow & Ball's Peignoir, which has the subtlest hint of Champagne, making it incredibly flattering. It softens a space without it feeling too feminine." —Jean Liu, Jean Liu Design
Get the Look
17
White Dove, Benjamin Moore
"With so many approaches to making great interiors, ours has always been from an architectural perspective of creating emotion with form and shaping space with natural light. Much of our work on colors that allow the details and materials to be experienced in the simplest ways . To those ends, we rely heavily on neutral palettes of color; one of the many shades we love is White Dove, AKA OC-17, by Benjamin Moore. It is always steady in most natural light of any space, it doesn't go yellow or pink or peach. It's a white that is not too stark but has a purity about it that works for creating clean interiors." –Jeffrey Dungan, Jeffrey Dungan Architects
"Benjamin Moore White Dove is consistently the most perfect warm yet fresh, neutral paint. It is my starting point of reference for the trim color in most rooms I design. I recently chose White Dove in a satin finish for the trim and White Dove in eggshell for the walls in a Garden Room. It was the most beautiful all-white, orangerie-feeling room!" —Allison Caccoma, Allison Cacoma Interiors
Get the Look
18
Shadow White, Farrow & Ball
"I absolutely love Farrow and Ball's Shadow White and Shaded White for the perfect trim accent colors. They are not too gray or beige, making them super versatile. I love using neutrals on the trim. A great neutral will add warmth and depth to the space but not draw too much attention to itself." –Virginia Tupker, Virginia Tupker Interiors
Get the Look
19
Intense White, Benjamin Moore
"It's a light neutral, which acts as a chameleon, taking its cues from other, more saturated colors that might be in a room. If there's a blue, it leans blue. If there's a green, it leans green." —Ray Booth, McAlpine House
Get the Look
20
Edgecomb Gray, Benjamin Moore
"A gray that complements cool colors really well without feeling too yellow, it brings added warmth to a decidedly neutral wall tone." —Kathleen Walsh, Kathleen Walsh Interiors
Get the Look
21
Alfresco, Benjamin Moore
"Benjamin Moore's Alfresco is a calming, cool color that works great with touches of cognac leather and gold tone accessories." —Joy Moyler, Joy Moyler Interiors
Get the Look
Advertisement – Continue Reading Below