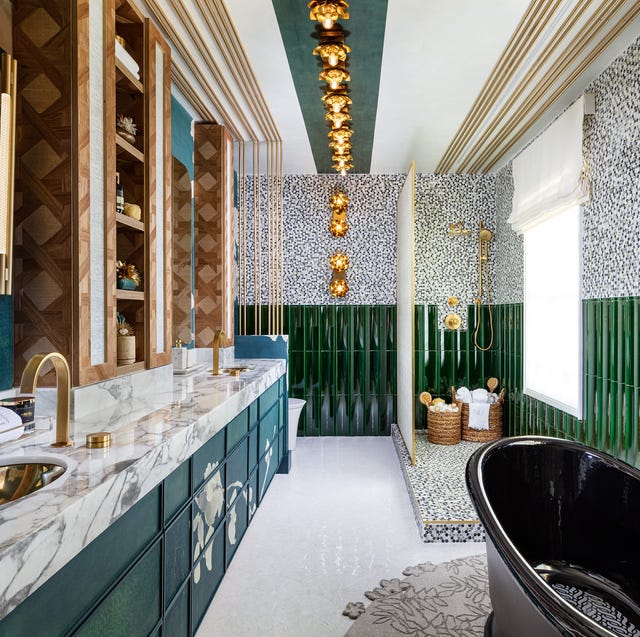 Nickolas Sargent (Sargent Photography)
Everyone deserves to take a break from the bustling world around them, and what better place to do so than in your own home with a spa-like bathroom? Luckily, your bathroom provides the perfect foundation for creating your own personal oasis filled with your favorite gadgets and products. The first step is understanding what your space needs to achieve that tranquil quality you crave—and these spa bathroom ideas are sure to spark some inspiration. Sometimes, it's as simple as splurging on a new collection of plush linens. In other cases, you may want to consider painting the room a soothing shade or freshening up those bath tiles that have lost their luster.
Whether you're sprucing up a petite bathroom or a luxurious suite, your space will immediately feel serene with these spa bathroom ideas!
Advertisement – Continue Reading Below
One of the first steps in the design of any room is figuring out the room's function and feel. Houston-based designer Chandos Dodson Epley calls this "setting a mood," rather than a theme or color story, as even the most vivacious shades can feel rejuvenating when paired with the right furnishings and fixtures. Think about the key features you adore while attending the spa and how you could emulate them within your own home. Once you've got a list in mind, you can begin working with a designer to figure out what is feasible in your space.
2
Invest in High-Quality Materials
Not every bathroom needs a complete gut renovation to reach a tranquil status. Sometimes, it comes down to simply swapping out tub fixtures that have lost their luster or Replacing dated flooring tiles. Investing in high-quality materials such as cutting-edge stone countertops for the vanity or a wood soaking tub can immediately elevate the room into feeling like it's a new space.
Crisp white marble has ruled as the go-to bathroom material for years. However, designers are starting to reach for bolder flooring and natural stones with wooden accents as a way to connect the space with nature. Playing with natural materials and richer finishes in the bathroom helps give it a sense of timelessness and warmth.
San Francisco-based designer Heather Hilliard often encourages clients to leave the bright colors and crazy patterns for the powder room as those tend to feel "activating rather than calming." Instead, the decorator recommends sticking to a tonal color palette of neutrals, blues, and greens. The key is to play with different hues within a color family to add enough interest, so people want to linger and relax within the bathroom. Subtle floral patterns can also help usher in the restorative power of nature without feeling too overwhelming or distracting.
4
Incorporate Some High-Tech Additions
When it comes to upgrading the hardware and appliances, don't be afraid to incorporate smart home technology into your bathroom. "Details like medicine cabinets with refrigeration for eye cream, bathtubs that keep a constant temperature, and a fog-free shaving mirror in the shower [turn] any bathroom into a spa experience," explains Epley. "It's not just a rain shower head and steam unit anymore—you can have it all."
Hilliard adds that water-resistant speakers are another nice touch, since they can easily help set the mood with serene sounds or music. Many brands even have options in neutral or muted shades to easily blend in with your peaceful space.
5
Purchase Spurge-Worthy Linens
Upgrading your bath linens may not be the first thing that comes to mind, but it should be. Plus, a curated set of linens can serve as an unexpected decorating tool, adding a textural yet cozy layer to the bath. Both Epley and Hilliard agree Matouk makes some of the best robes and towels. For linens that can be personalized, our editors adore Leontine Linens and Peacock Alley.
6
Hang Some Airy Curtains
Floor-to-ceiling curtains in a Larsen fabric add an air of spa-like elegance as part of the white and bright color scheme in this marble-clad space. The wall-height windows light up the space designed by Carolyn Malone with natural light, while a statement-making Artemide chandelier fills with luminescence by night.
7
Incorporate a Showstopping Shower
The floor-to-ceiling glass walls of this shower make its connection to the tones in the rest of the room seamless. Plus, you can step straight outdoors from it, thanks to a clever design by Christina Rottman. The shower fittings are by Hansgrohe and the tiles by Ann Sacks.
Talk about dreamy! You'll feel like you are bathing (or showering) in a garden thanks to lush greenery around the tub, plenty potted plants, and a glass wall and ceiling that almost disappear as they open up the Edenic scenery outside them. Steve Giannetti designed this space.
An archway in the wall emphasizes that the bath, with fittings by LeFroy Brooks, is the centerpiece of this room. A vaulted ceiling and a statement-making chandelier further accent this soaking tub. Fresh flowers also add to the spa-like feel of the space designed by Colette Van Den Thillart.
10
Install a Luxurious Rain Shower Head
With a large rain shower head like this one, water will fall like rain on your head for a gentler, more spa-like shower experience. Here, the shower head only enhances the natural feel of this earthy space and makes you want to hop in and warm up after spending time outside on a winter day. The bathroom was designed by Daniel Romualdez, and the tub and shower fittings are by Kohler.
11
Add an Elegant Fireplace
Who said you can't make your bathroom feel more like an elegant living room replete with a fireplace, taper candles, and a gilt mirror behind the antique claw-foot tub? Don't forget plenty of fresh greenery for the full spa bathroom experience, as you can see in this space designed by Darryl Carter.
12
Consider an Elevated Tub Filler
A custom chandelier fitted with a Kohler tub filler feeds a copper bath from overhead—talk about taking things up a notch in this Jeffry Weisman bathroom design!
13
Work in Terra Cotta Textures
Not all spas are white and bright—achieve the rough but refined look of this Belgian design by Joris Van Apers with reclaimed terra cotta tiles as well as a spare, modern tub.
14
Soften the Space with a Serene Rug
A handsome landscape painting accents oak paneling above a deep soaking tub (Waterworks) and a more classic square tile in this bathroom designed by Melanie Pounds.
16
Up Storage with Showcasing Shelves
Display a collection of your choosing, like this colorful pottery by Paul McDonald (and towels too), on built-in shelving. This airy guest bathroom designed by Philip Mitchell shows that function and beauty can certainly coexist. Plus, we think every guest deserves to soak in a claw-foot tub in an arched nook.
17
Decorate with Cohesive Canisters
There's no need for artwork when a full-wall window frames a wooded view. Stepping down into this tub will make you forget any worries that lie beyond this serene spot designed by Campion Platt. Talk about a truly special spa-like bathroom design!
19
Perch a Tray on Your Tub
Set a clear acrylic tray (like this one) over your tub for easy access to your loofah, book, and fresh florals. This spa-like space designed by Robert Passal features handcrafted, pearl-like lighting by Canadian designer Larose Guyon.
20
Don't Forget the Spa-Like Bath Salts
No spa is complete without its treatments, so splurge on bath salts and set them on a stool where you can reach them from the tub. This rusted tub features bath fittings by Van Dyke's and sits under a photograph by Bert Teunissen. The space was designed by Shawn Henderson.
21
Try Some Unique Towel Racks
There's no need to follow convention for towel racks when you can get more imaginative with their design. This one echoes the mirror beside it and has a similar feel to the lighting by Apparatus. With Shirlene Brooks's design, natural light also spills into this space from an open-air courtyard that connects this beach house primary bedroom and bathroom.
22
Incorporate Soothing Symmetry
23
Add a Wall-Mounted Towel Warmer
Keep your towels warm for added luxury after a bath. (For a different look we like this wall-mounted towel warmer.) This soaking tub, which is elevated on a pedestal for added drama, is by Waterworks. This bathroom was designed by Tammy Connor,
Enhance the elegance of any bathroom with gold fixtures, seen here in a side table by John Boone, towel racks, sconces, and the custom dressing table and chair upholstered in a Cowtan & Tout fabric. This gilded bathroom was designed by Thomas Pheasant.
25
Incorporate Natural Tones
Natural tones are always at home in a minimalist design—especially when you're trying to achieve a spa-like space. This tranquil bathroom was designed by Victoria Hagan, the tub fittings are by Dornbracht, and the rug is by Dualoy Leather.
Advertisement – Continue Reading Below