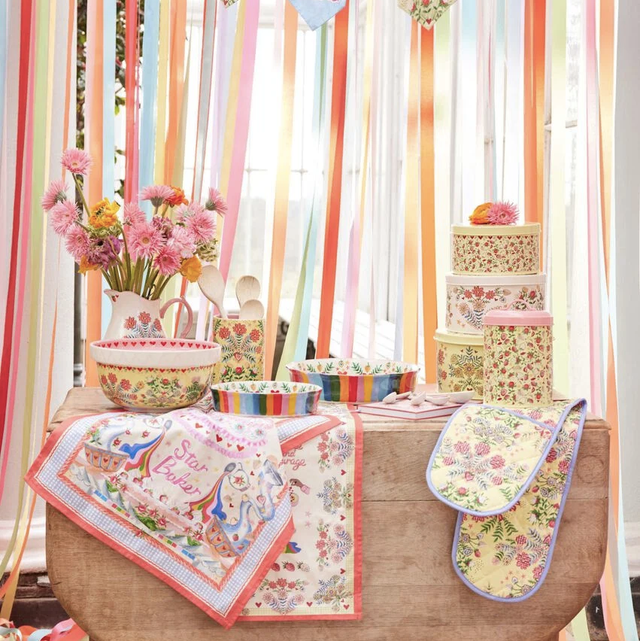 Cath Kidston
Any keen baker will know that having the right equipment in your kitchen is a must for creating everything from cakes to bread. Whether you love your handheld whisk or can't live without a stand mixer, some pieces are simply staples when it comes to creating your favorite teatime treats.
In addition to the equipment you need to create your show-stopping bakes, it's always a nice bonus to have pretty serveware and kitchenware to match the beauty of your creations. If you're looking to top up or replace your current bakeware, we have some good news… iconic British homeware brand, Cath Kidston, has collaborated with Great British Bake Off on a beautiful home and kitchen range.
SHOP THE CATH KIDSTON X GREAT BRITISH BAKE OFF COLLABORATION HERE
The new collaboration consists of 42 sweet pieces, each featuring quintessentially British designs that feature a nod to Great British Bake Off. Whether you're looking for floral designs, brightly-colored cookware or to take advantage of the hugely popular gingham trend, there's something for everyone in the Cath Kidston x Great British Bake Off range.
What's more, it's not just plates, mugs and crockery that you can expect from this much-anticipated collection. The range also features a host of homeware and fashion pieces; from placemats and tablecloths to tote bags and aprons. In fact, it even has pajamas for adults and children!
Here, we've curated our top 10 picks from the Cath Kidston x Great British Bake Off collections. So, whether you're a star baker or are just looking for some gorgeous new tableware, you can shop our favorite items…
SHOP THE CATH KIDSTON X GREAT BRITISH BAKE OFF COLLABORATION HERE
Advertisement – Continue Reading Below
1
Cath Kidston
cathkidston.com
GBBO Set of 4 Side Plates, £45
2
Cath Kidston
cathkidston.com
GBBO Star Baker Placement Tea Towel, £14
3
Cath Kidston
cathkidston.com
GBBO Showstopper Ditsy Made in UK Mug, £15
4
cathkidston.com
GBBO Cake Week Hamper, £110
5
Cath Kidston
cathkidston.com
GBBO Showstopper Set of 3 Cake Tins, £40
6
Cath Kidston
cathkidston.com
GBBO Star Baker Easy Adjust Apron, £25
7
Cath Kidston
cathkidston.com
GBBO Showstopper Ditsy Set of 2 Champagne Flutes, £26
8
Cath Kidston
cathkidston.com
GBBO Showstopper Jug, £30
9
Cath Kidston
cathkidston.com
GBBO Showstopper Ditsy Lunch Tote, £25
10
Cath Kidston
cathkidston.com
GBBO Showstopper Double Oven Glove, £22
Advertisement – Continue Reading Below