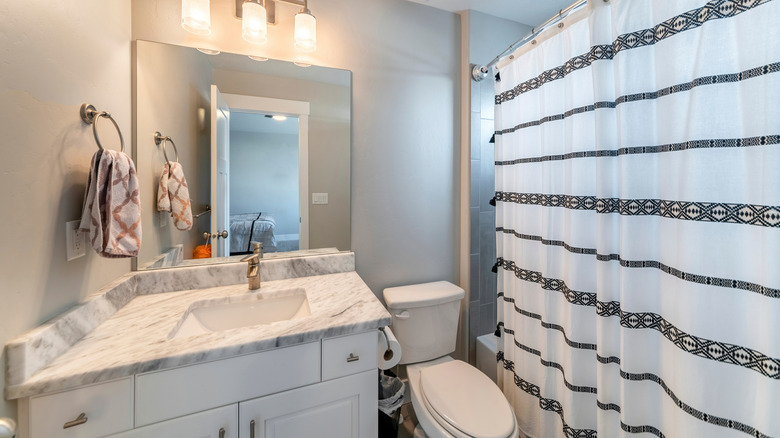 Jason Finn/Shutterstock
Oftentimes, because bathrooms are typically the smallest areas in the home, their design can be an afterthought. However, most of us spend quite a lot of time in this room, so styling it to be extra enjoyable may be worth the effort.
An extremely easy way to completely transform your bathroom is by adding the right shower curtain. Plumbworld says that shower curtains are important because they keep water and moisture inside the shower while also providing privacy. And they are also a key component in creating the overall style of your space. In fact, your shower curtain is perhaps the largest décor piece in this cramped room, and it can sometimes be the first thing you notice when entering.
If you have a small bathroom and want to make it feel larger, you could do this by choosing the right shower curtain. Below are 15 ways to make this space feel bigger with the help of this simple feature.
1. Lifted curtain rods make showers look spacious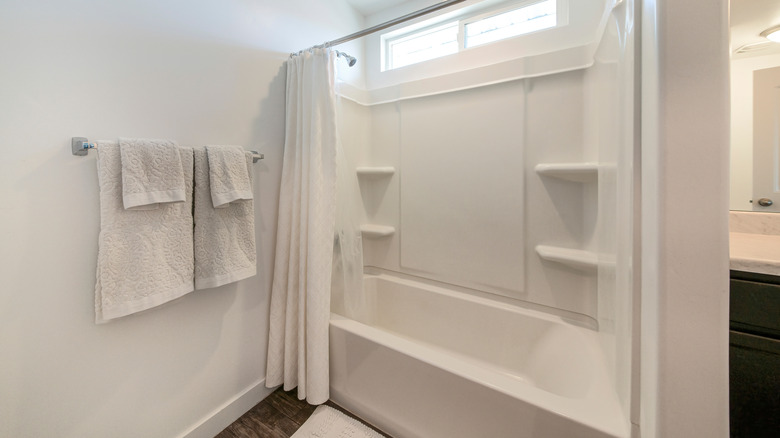 Jason Finn/Shutterstock
Just like with regular curtains, lifting the rod closer to the ceiling will make your shower appear more spacious. In turn, this can make your bathroom look larger, too.
2. Curved curtain rods add a more grand appearance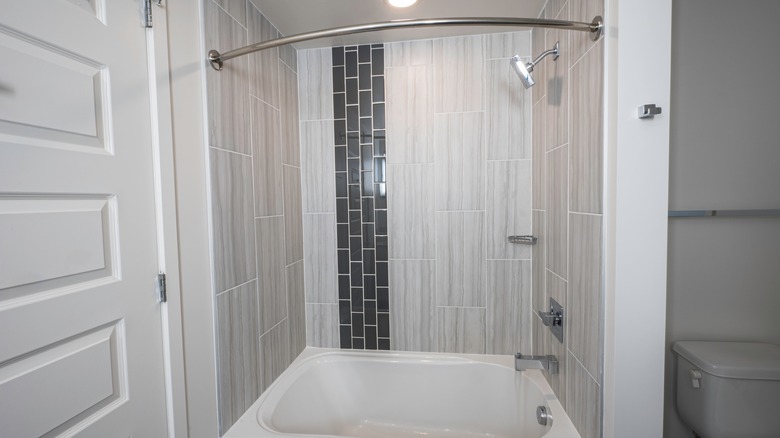 David Spates/Shutterstock
If you have a straight curtain rod, you may want to replace it with a curved design. This can make your shower appear more vast and, therefore, make your whole bathroom look grander.
3. Horizontal stripes will make your shower look longer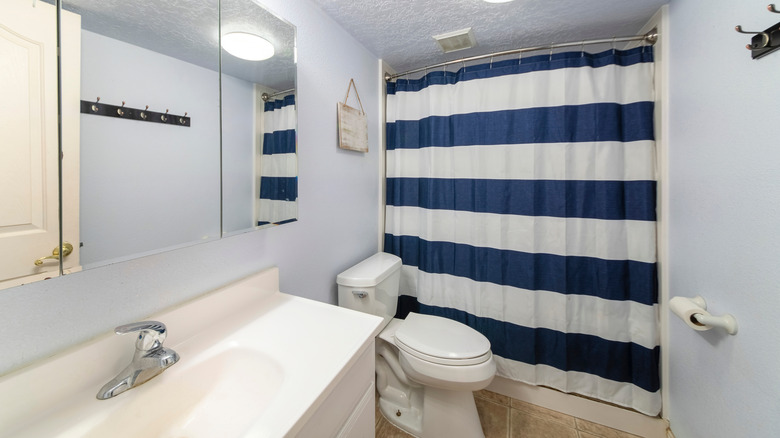 Jason Finn/Shutterstock
If you want the wall your shower is on to look longer, add a curtain with horizontal stripes. This pattern carries the eye across the shower wall, which can make the space look longer.
4. Vertical stripes will bring the eye up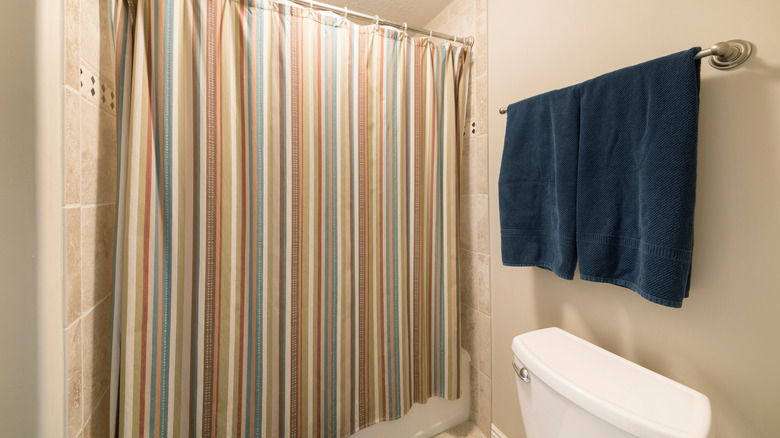 Jason Finn/Shutterstock
On the other hand, shorter showers may benefit from a vertically striped curtain. This draws the eye up towards the ceiling and makes the area appear taller.
5. A light colored curtain will add an airy feel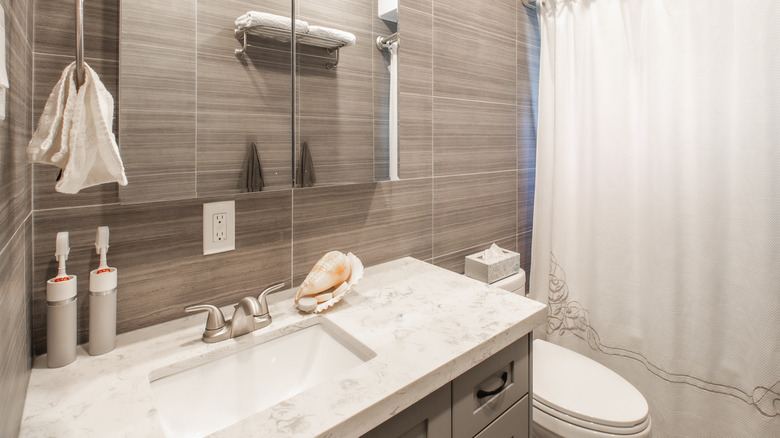 IJMphotos/Shutterstock
Light-colored shower curtains add an airy feel to bathrooms and can make them feel bigger. In the above space, the white shower curtain makes the small room feel like a breath of fresh air. A dark curtain would make the room's small size feel oppressive.
6. Curtains that fall to the floor make the rooms look bigger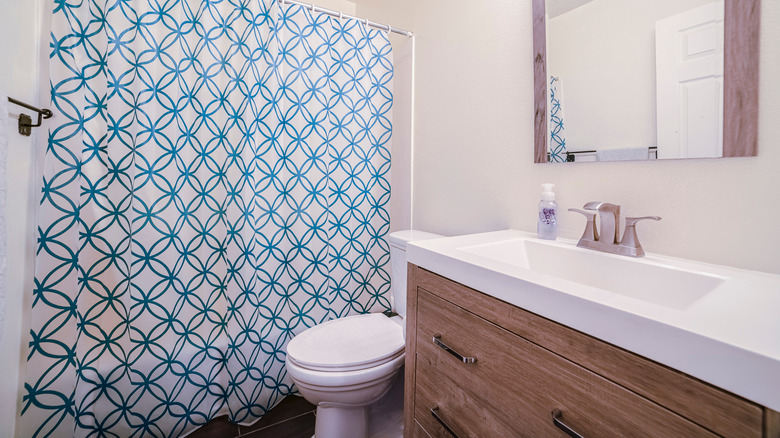 Jason Finn/Shutterstock
It's important to choose the right shower curtain size as well. You want the curtain to fall close to the floor, as this will make your shower and entire bathroom look larger. A shorter curtain would emphasize the small size of your room.
7. Subtle designs are less overwhelming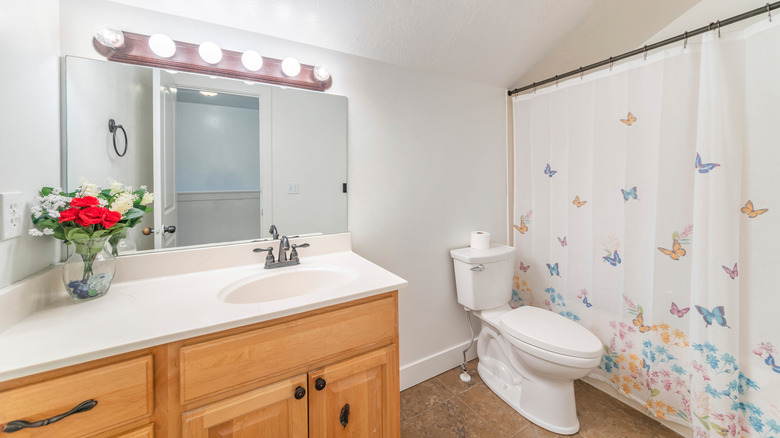 Jason Finn/Shutterstock
While you may be tempted to buy an extra bold curtain, ones with very minimal design will make the room feel more spacious. Over-the-top prints can feel domineering in this small area.
8. Simple geometric patterns are a safe bet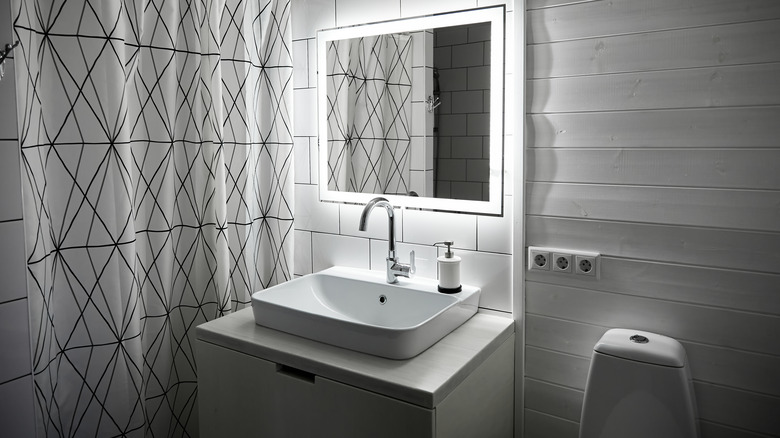 Hanna Taniukevich/Shutterstock
Geometric prints are repeating, meaning that they continue a pattern over and over again across the material. Because these patterns are orderly and have clean lines, they can make the bathroom feel broader. Prints with free-flowing lines or images are more overwhelming and could make a space feel cramped.
9. It's smart to choose one that matches your style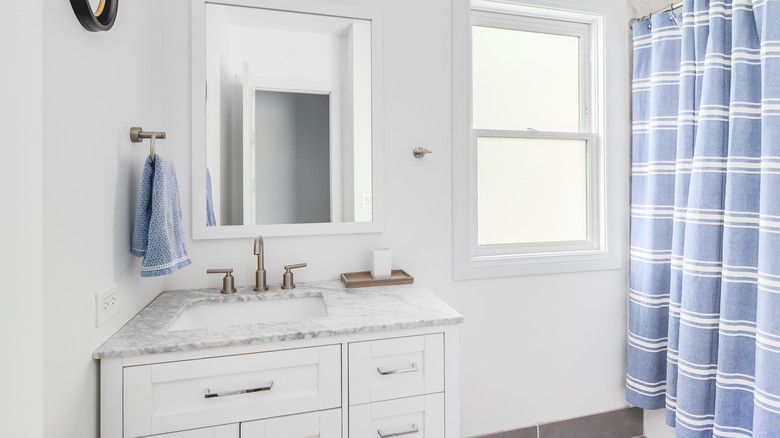 Hendrickson Photography/Shutterstock
Choosing one in a color and style that you enjoy is always a great idea. This will definitely make your bathroom look more appealing to you, which could make it feel more spacious as well.
10. Dark tiles work with light curtains and vice versa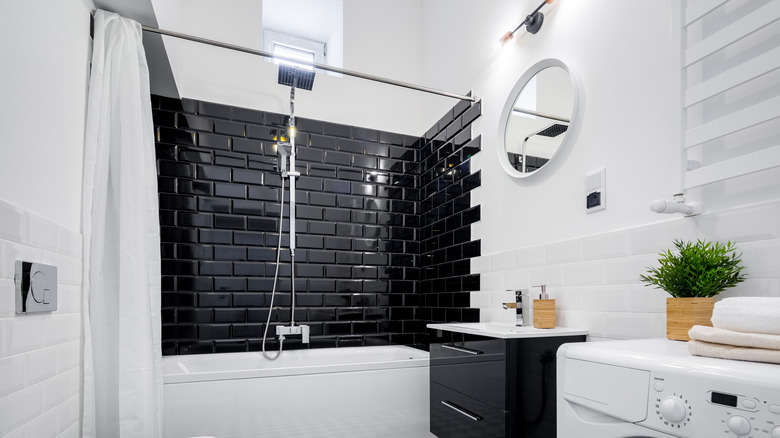 Dariusz Jarzabek/Shutterstock
Also, think about the appearance of your shower when choosing your curtain design. If you have dark tiles, a light-colored curtain can make the space feel less small. At the same time, if you have a light bathroom color, you could get away with a darker curtain, if desired.
11. Patterned tiles work with solid curtains and vice versa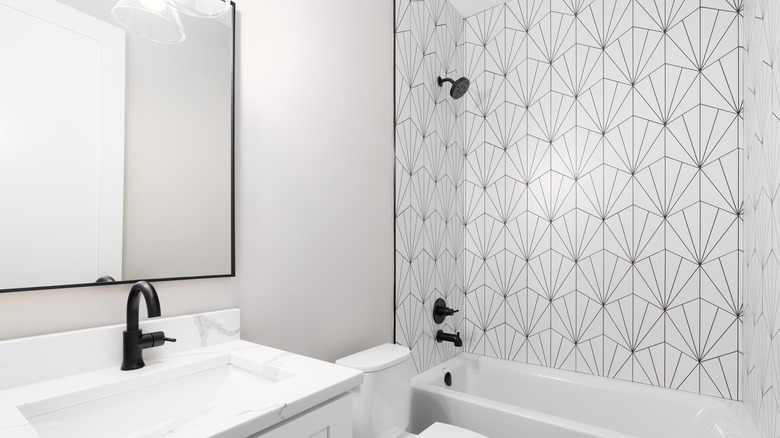 Hendrickson Photography/Shutterstock
Similarly, if your tiles are all one color, a printed curtain could work well, whereas if you have patterned tiles, a simple curtain in a solid color would tone down the loud design and make the room feel bigger.
12. Match the curtain with the walls to expand the room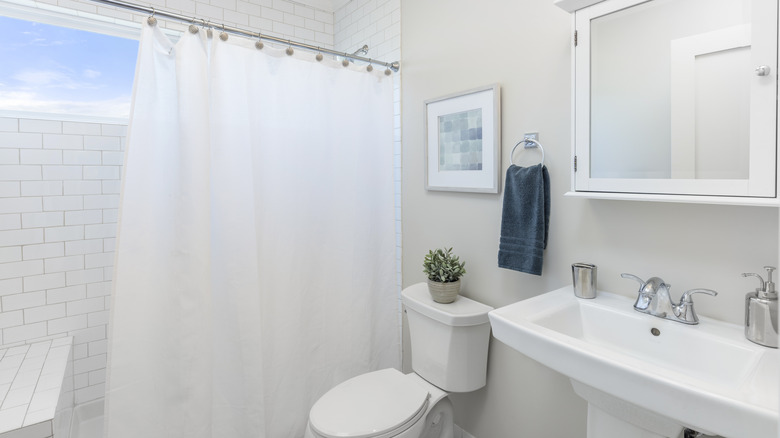 BondRocketImages/Shutterstock
Matching your shower curtain with the walls and tiles in the bathroom can make it look like an extension of the room, which would make the space appear as though it expanded.
13. Transparent curtains make spaces look larger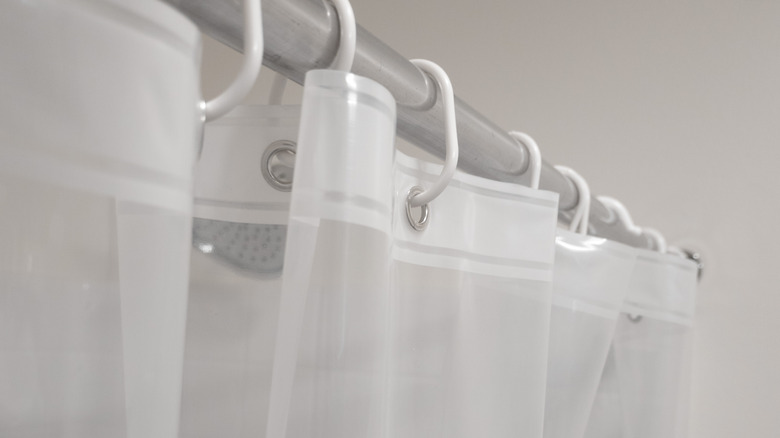 LifeisticAC/Shutterstock
While plastic transparent curtains are typically only used as liners, you could use one as your main curtain as well. This would make the inside of your shower always visible even when the curtain is closed, therefore making the room appear larger.
14. If you choose a dark color, make it solid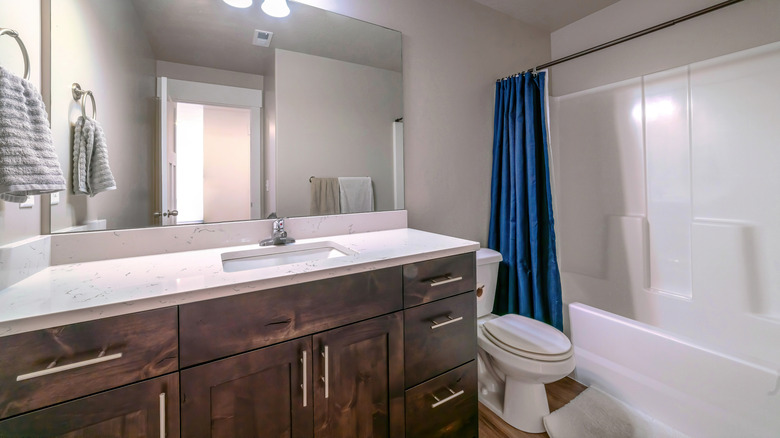 Jason Finn/Shutterstock
If you really like the look of a deep, bold curtain, choose a solid color and not one with a pattern. This will put less emphasis on the small size of your area than a loud print would.
15. Texture can make your room look more dynamic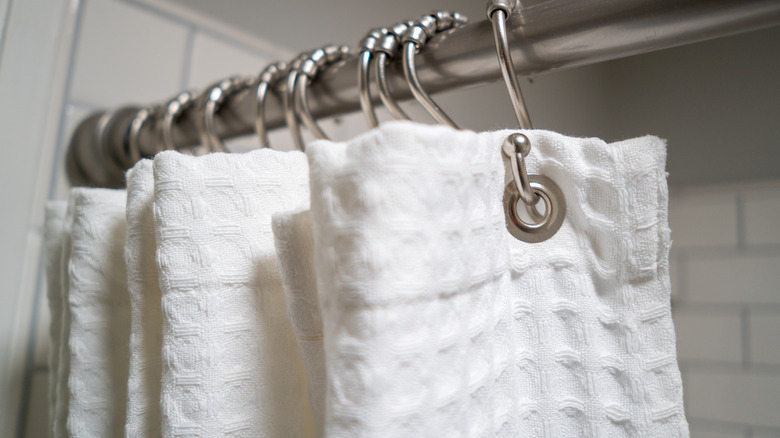 RelentlessImages/Shutterstock
To add subtle interest, choose a shower curtain with texture instead of a colored pattern. This will make your bathroom's design appear more dynamic without also making the room feel tight or overwhelmingly tiny.