Diwali, also known as the Festival of Lights, is celebrated by over a billion people around the world. Diwali is the biggest festival for Hindus across the globe and is also celebrated by Sikhs, Jains and some Buddhists. Diwali celebrates the victory of good over evil, light over darkness, positivity, and the light we all have within. There are five days of Diwali and several stories associated with the holiday.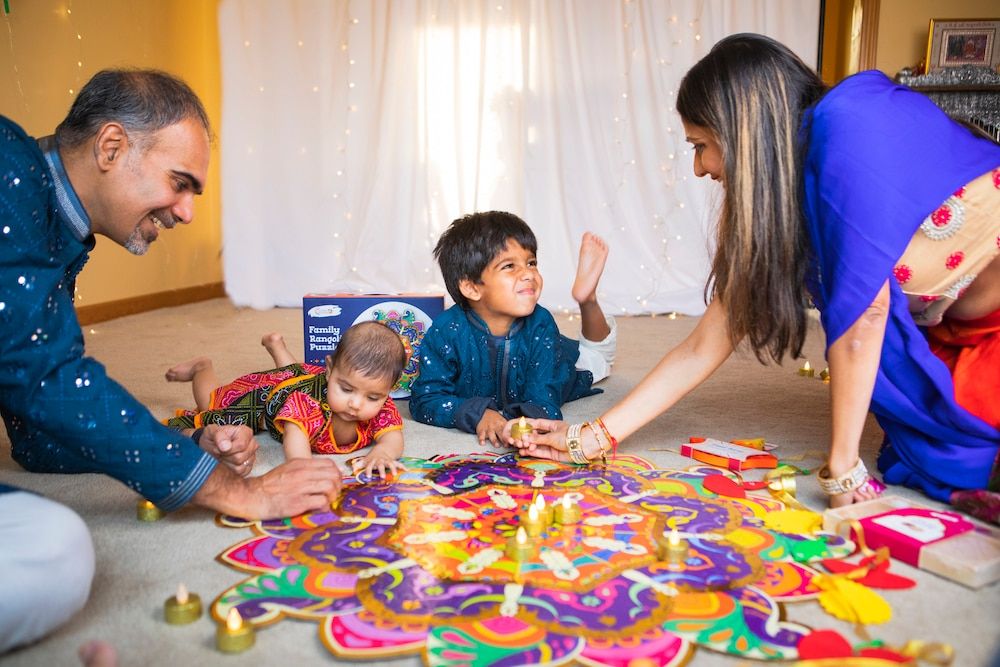 Diwali is an auspicious time when families come together to pray, eat good food, decorate their homes, invite positivity into their homes and exchange best wishes with loved ones. People generally spring clean their homes, wear their finest traditional clothing, create rRangolis (traditional floor art), make torans (decorative door hangings) and light dDiyas (little clay lamps).
When is Diwali?
It generally falls around October or November every year. This holiday follows a lunar calendar and this year, Diwali is on October 24, 2022, and is celebrated over five days.
Diwali activities for kids
Here are eight fun Diwali activities for kids to learn and celebrate its unique festivities:
1. Read a book or a few about Diwali and the festivals
There are some great Diwali books, which help children and caregivers learn about the significance of Diwali. They have beautiful illustrations depicting the celebrations associated with the festival.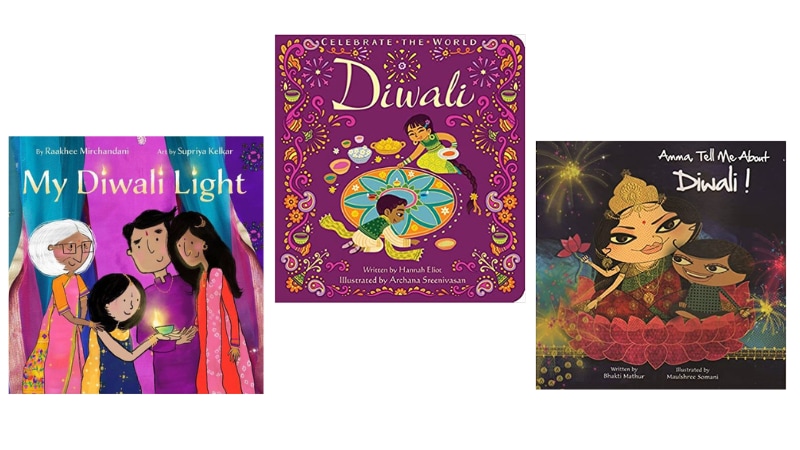 "My Diwali Light" by Raakhee Mirchandani is a charming holiday story following one girl's family as they celebrate their Diwali traditions with the ones they love.
"Diwali (Celebrate the World)" by Hannah Eliot is a beautifully illustrated board book that shares the significance of the five days of Diwali.
"Amma, Tell Me About Diwali!" by Bhakti Mathur explains the religious significance of Diwali and the several stories associated with the holiday.
In addition to reading, kids love craft activities and they're a great way to get them engaged in the holiday preparations. Kids love to display their homemade art around the house, so we use them as decorations. Try these crafty Diwali ideas that explore their sensory.
2. Sculpt DIY rainbow Diwali diyas to light up
Brighten up your Diwali decor with these DIY rainbow Diwali diyas from Nisha, the creator of Love Laugh Mirch.
Supplies: You will need white polymer clay, colorful polymer clay, a small paintbrush, gold liquid gilding, a baking tray and aluminum foil.
How to: Preheat oven to 265 F and cover the baking tray with aluminum foil. Take a little bit of each color polymer clay, mix them to create different patterns and flatten the ball in your hands. Make a bowl and pinch one tip of the bowl. Arrange the diyas on the baking tray and bake for 45 minutes. Once cooled, paint the rims gold. You can either use a wick and oil or a battery operated tea light to light up all your little lamps, aka diyas.
3. Make a traditional toran garland for hanging on the door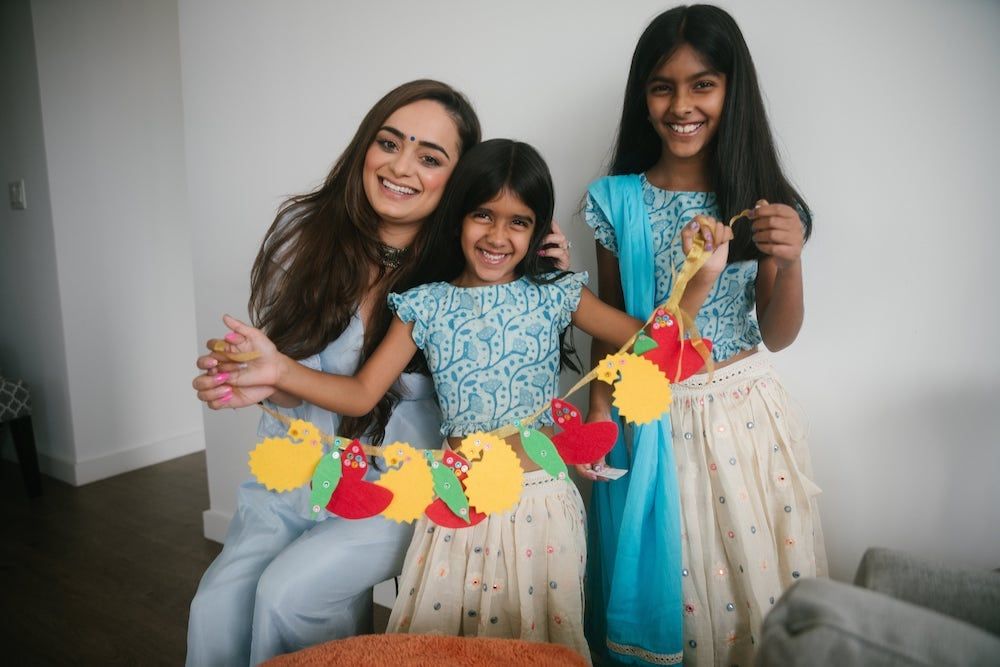 Torans, like the one shown in this photo of Trisha Sakhuja-Wali of New York and her nieces, are hung on home entrances to invite positivity. These bring good luck, ward off evil and jazz up your home decorations for Diwali.
Here are some simple steps to make your own toran garland for Diwali.
Supplies: Gather gold ribbon, construction paper in three different colors, glue, scissors, pencil and gems or gem stickers.
How to: Cut a piece of ribbon that is about three inches longer than your door width. Draw fun shapes on construction paper. Some traditional shapes are that of a clay lamp, paisley mango and a diamond. Decorate using gems or gem stickers and glue. Using glue, stick the construction paper cutouts on the gold ribbon equally distant from each other. Hang the toran on your entrance door
4. Experience Indian food and drink
Food is a great way to experience and explore a culture. Sweets and traditional foods are a big part of the Diwali celebrations. Mango Lassi is a popular sweet drink that is made out of mangoes and yogurt. Whether you are throwing a Diwali party or trying to learn about the holiday, kids will love mango lassi.
Here is a mango lassi recipe by Meeta, author of the popular recipe blog Piping Pot Curry.
5. Have a Bollywood dance party and listen to Diwali story
Music and dancing are wonderful aspects of Diwali celebrations. You can start with this free Diwali playlist. I also put together a fun Diwali playlist (free Spotify signup required) that you can dance to and enjoy some popular Bollywood songs. A lot of Bollywood movies are vibrant, colorful musicals with songs and dance. Bollywood dancing to these songs is a great way to experience Indian culture.
To learn about the traditions and celebrations, listen to the Diwali musical audio story (also on Spotify).
6. Watch a video about Diwali
This video by National Geographic offers a beautiful visual of Diwali – Festival of Lights. The video focuses on the celebrations and traditions of honoring the holiday across India.
7. Learn all about rangoli
Rangoli is a traditional Indian floor art created using colored sand, rice and flowers. Rangolis are created to invite positivity and celebrate all good things to come.
You can color in your own Rangoli using this free printable on Kulture Khazana, which I founded in 2018. Coloring is a great stress-relief activity.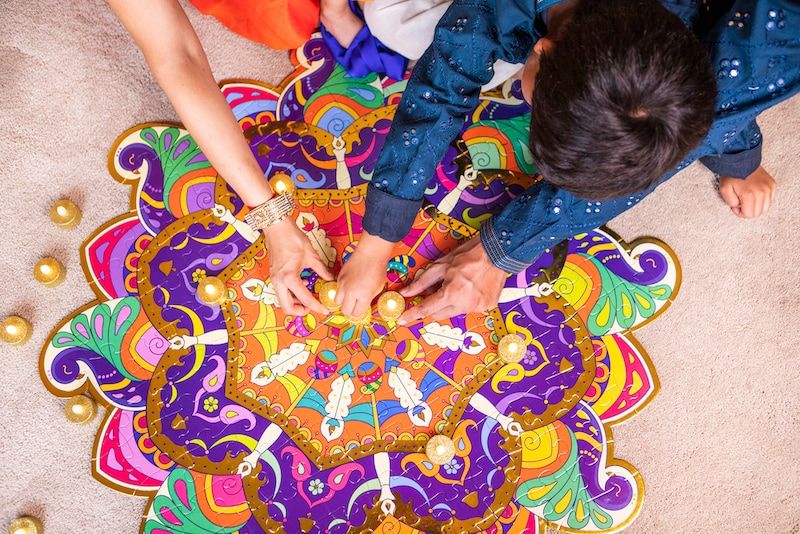 This Rangoli Floor Puzzle at 32 inches across is created with traditional designs. It can be used as a Diwali decoration and a Diwali party activity for kids.
Where to buy: Rangoli Floor Puzzle ($32, Kulture Khazana)
8. Buy and enjoy Diwali sweets
It is customary to exchange sweets and give gifts to kids for Diwali. You can order some traditional Indian sweets to gift or enjoy for yourself.
Nisha, author of Love Laugh Mirch blog, loves making little sweet bags with her daughter and visiting her loved ones to gift little goodie bags the night before Diwali.
Where to buy: Sukhadia Exclusive Gold – 18pc box ($38, Sukhadia's)