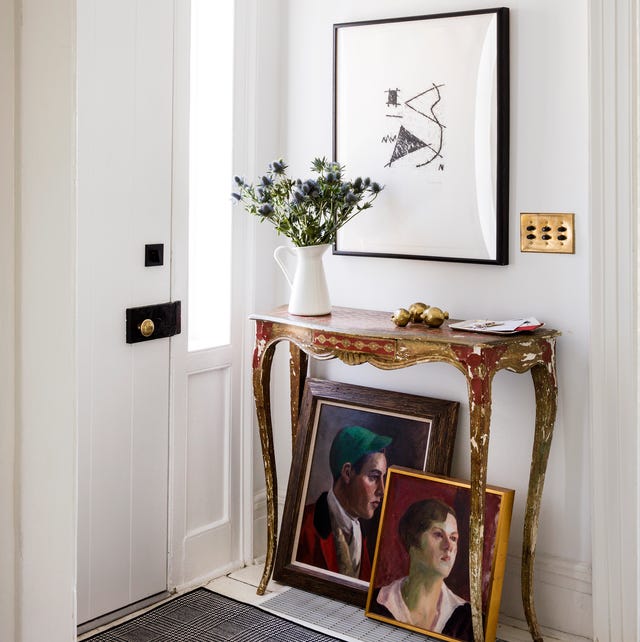 Paul Raeside
Entryways are the unsung heroes of the home. Though the entrance may not get as much stationary use, as, say the kitchen or bedroom, it works just as hard to keep you organized and make a good first impression on all who come inside. And while having a small entryway may make designing it a little more daunting, you'll soon see that size isn't everything—strategic, stylish problem-solving goes a long way. So if you're in need of some inspiration to pave the way for your own small entryway, these designer examples will do the trick. From narrow hallway entrances to front doors without dedicated foyers and awkward corner nooks that open right up into the living room, take note of the 24 small designer entryways ahead to prove that limited square footage is no match for a savvy design plan.
Advertisement – Continue Reading Below
1
Give It Functional Purpose
A secretary desk with stools tucked under makes a surprising style statement, but they also mean that the small entryway can double as a little work from home space. Designer Juan Carretero opted for a deep green paint color to contrast with the light wood finishes.
A little floating shelf and a basket are all it takes to complete this small entryway designed by Emil Dervish. The hallway feeds into the main living space and open kitchen, so there really isn't even a dedicated entryway. Oh, and a bold paint color can make a door really pop.
A small, wall-mounted demilune table brings old-world opulence to this apartment designed by Patrick McGrath, while the vibrant and eclectic leaning artwork and stacked books give it a laidback atmosphere. The mirror bounces natural light and the small surface provides just enough space to prop up photographs and flowers without jutting too fr into the walkway.
Spotlight a beautiful area rug or runner that sets the tones for the color palette ahead in the rest of the home. A saturated Art Deco rug is always welcome. Designer Shon Parker then added an upholstered bench to warm up the stone flooring.
5
Call on the Right Lighting
A classic runner and a few decorative items embolden this eclectic entryway designed by Juan Carretero. A pendant and statement table lamp light the way for tasks.
Customize an entryway workhorse that gets everything done in one piece! A floating bench and storage piece in this entrance by Kureck Jones proves just how useful it can be. With two drawers for essential eyesores and a surface for a lamp and a small bench with a comfy cushion, this two-in-one built-in has it all. Plus, there's still room for a mirror and plenty of wall hooks.
All you need is one small corner to make this entryway design idea come to life. Stack a couple of coffee table books, add a table lamp, and hang some colorful artwork, as Andrew Flesher did here. Extra points if your vignette also includes a dreamy curtain-effect pewter table.
Both walls in this hallway entrance by Heidi Caillier are optimized for organization. On the left, the double-tiered console provides a home for books, vases, and lights, while the other wall is a designated hanging zone for coats and hats.
This geometric red piece in a foyer by Andy Beers of Ore Studios is perfectly proportioned for the space and almost looks like art, but also proves quite functional. Then, dramatic greenery brings a sense of life to the modern space, connecting it to the forest view outside. Just as the transition space should!
A backless, low bench ensures a laidback vibe in this hallway entrance designed by Ellen Kavanaugh. Neutral colors ensure that the tiled floor, texture-rich accent wall, and vintage sconces do all the talking.
Intense, eye-catching, and adventurous, we're loving the neon pink walls in this entryway designed by Jonathan Berger. A bright color will make a warm, welcoming, impossible-to-forget entrance, and dramatic flowers will set the tone for the rest of your home, since, it's a segue from the outdoors.
Love the look of a grand table in the foyer? Here's how to accomplish it with a smaller footprint. Two small upholstered benches frame a pedestal table in this contemporary entryway designed by Kristin Fine. Nestled in the corner, the furniture remains clear of any walkways and doorframes.
A small bedside table functions as a mini console table in this entryway in the home of Devin Kirk. An accent chair fits next to it perfectly and provides Kirk with a place to sit and lace-up. Graphic, eye-catching wallpaper modernizes the vintage pieces.
To bring some color to your entryway while keeping it casual, lean some oil paintings on the floor under a narrow console table. We're loving the eclectic vibe of the houndstooth area rug, antique table, and farmhouse pitcher in this space by Andrew Flesher.
Install some sconces, paint the walls a unique and eye-catching color, and slide up a fun accent chair. These high-gloss green walls in a hallway designed by Christina Murphy are such a nice surprise and the shimmery, reflective glow makes it feel open.
A mirrored wall in the sunken lounge makes this small, architecturally quirky entrance by Kingston Lafferty Design appear much larger. A fun cone-shaped red pendant and pink curved bench bring the rustic archway to life.
A floating console with a single drawer will keep clutter tucked away and also provide a surface for propping up a pretty flower arrangement. Studio DB proves that it only requires a small wall between two doorways in this New York City apartment.
18
Take It to the Next Room
With little to no room for furniture in the small entryway, Emily Henderson chose to use the wall at the end of the adjacent living room as a makeshift mudroom. A bench curves around the bend and a mirror serves as a focal point on the wall.
19
Disguise Odd Shapes With Wallpaper
All eyes are on that beautiful wallpaper in this oddly shaped entrance designed by Nick Olsen. A runner in complementary colors grounds the space and a kitty-corner chair ensures interest over tunnel vision.
This entrance designed by Catherine Kwong proves that you can fit both a console and a bench in your small entryway. You can even nestle it all under the stirs. Just use that little gap to your advantage and see it as an opportunity for a style moment.
A built-in niche could make for a handy coat closet, or it could be given a second life as a cozy reading nook by removing the doors, adding a cushion, colorful throws, bolsters, and some bold artwork. Task lighting, artwork, two wall hooks, and an umbrella holder complete this small but mighty entrance designed by Tamsin Johnson Interiors.
Shimmering walls make even the tiniest of spaces feel expansive and enchanting. A metallic paint makes this entryway designed by Alison Pickart glow from the end of the hall. Upholstering the walls in a lush velvet would also be lovely.
Designed by Corey Jenkins, this little nook is another great example of a small but impactful entryway. He maximized limited space with a built-in bench and slim side table for keys and other essentials. Then he covered the wall in an eye-catching blue wallpaper to break up all the white space. It's the perfect complement to the chevron throw pillow and graphic artwork.
Build a makeshift coat closet and keep it exposed for a more open feel, as Reath Design did here. Tile floors mean easy clean-up, too, making this entry double as a mudroom.
25
Make Use of a Pedestal
When your entrance is too narrow for a console table, use a column or pedestal as. small surface for either a vase, like Corinne Mathern did here, or for a catch-all to keep your keys in.
Advertisement – Continue Reading Below