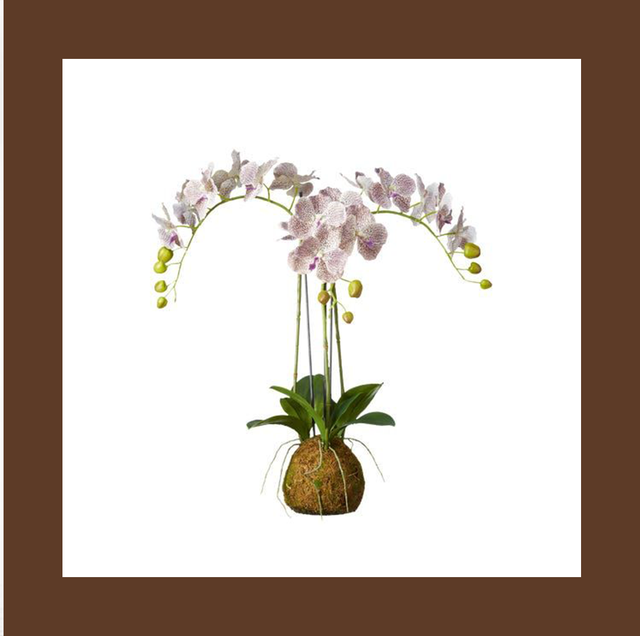 Courtesy Image
Fake plants have come a long way over the years—and as someone who once managed to kill a cactus (I wish I was kidding…), I've grown to love them. Not only are they incredibly low-maintenance, but these days there's also a wide variety of faux plants that look just like the real deal. (I'm talking full, billowy leaves and natural shapes, my friends!)
The list below includes 12 of the best fake plants the internet has to offer, from a fiddle leaf tree to a fern and everything in between. So whether you're looking for statement-making living room decor or a small windowsill accessory, you'll want to add at least one of these to your cart.
But first, here are some tips on how to make your faux greenery look as real as possible:
Clean them regularly! Plastic leaves collect dust and *spoiler alert* that's not a problem with the real ones because they're watered regularly. Wipe down the leaves with a sponge or paper towel regularly, because a dusty plant is not fooling anyone. Pro tip: A little makeover doesn't hurt either—fluff the leaves of your fake plant every so often to give them a life-like look.
Coordinate them with your existing decor! Your faux greenery will look much more natural if you style it properly. Putting a succulent in a modern room, for example, looks a little ~off. Instead, try a standing plant with large leaves that can hold up against striking and geometrically-shaped contemporary furniture—just make sure your plant matches the design style of the room you put it in.
Customize your planters! The planters fake greens come in are often meh. Try housing your faux greenery in a custom one instead. Here are a few of our favorites: Tal & Bert Amethyst Geometric Planter ($60), Grounded Matte White Planter ($30), CosmoLiving by Cosmopolitan Iron Planters ($221.99 for two).
Okay, now that you know what to do after you adopt your lil cutie, let's talk options. Keep reading for the 12 best fake plants that'll upgrade your space and how to style them.
Advertisement – Continue Reading Below
1
These dried flowers
Urban Stems
The Juneau
2
This fake banana leaf
Project 62
36″ x 26″ Artificial Travelers Banana Leaf in Pot
3
This fake string of hearts
Pottery Barn
Faux Trailing Variegated String Of Hearts Houseplant
4
This fake aloe plant
CB2
Faux Maguey Pick 15″
5
This fake orchid
ok
Small Faux Planted Phalaenopsis Gigantea Orchid
6
This fake snake plant
West Elm
Faux Potted Snake Plant
7
This fake pampas grass
WXILIBE
Faux Pampas Grass Bouquet
8
This fake succulent
West Elm
Faux Potted Echeveria Succulent Plant
9
This fake fiddle leaf tree
Valerie Parr Hill
5′ Faux Fiddle Leaf Tree
10
This fake fern
Nearly Natural
Large Boston Fern Hanging Basket
11
These dried flowers
Afloral
Pink Cream Dried Sago Palm Flowers
12
These fake cacti
Pottery Barn
Faux Potted Saguaro Cactus
Advertisement – Continue Reading Below
.