Cala Homes offers insights on how to style a home office for productivity. These include the theories that plants in an office workspace which can increase productivity by up to 15%, exposure to natural light can improve productivity by up to 40%, and the colors blue and green are associated with creativity and new ideas, while yellow allows innovation, orange encourages concentration and red brings a sense of urgency.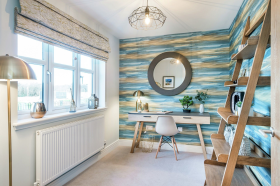 Despite the recent focus on "getting back to normal", it's become very clear that some level of remote, flexible or dynamic working is here to stay. As a result, creating the perfect working environment plays a key role in boosting your mood and focus, ensuring you have a productive day. That's why design experts from Cala Homes and one of their interior designers, Felicity Stevens at Haus Interiors, have provided tips on creating the ultimate home office to boost your overall wellbeing and productivity.
Steve Rule, Group Design & Technical Director at Cala, says: "Our experience during lockdown is likely to have a long-term impact on the way we live our lives and what we look for in our homes. Working from home is going to become the new normal way of working for many people and businesses, and here at Cala Homes, we have seen an increase in demand for home office space and integrated supporting technology."
Design choices that improve the home office
The act of setting up a home office to promote productivity can do just that – a study found that employees who have control over the design and layout of their workspace are up to 32% more productive.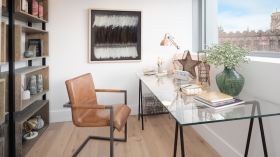 "When organizing a home office, think angles: curved lines can promote feelings of relaxation and calm, particularly in a home environment, so an angular desk setup may be better to help focus," says Felicity.
Studies have found that exposure to natural light can have positive effects on our mental and physical health, and that workplaces with natural light improve productivity by up to 40%.
Proper lighting in your workspace can also reduce eye fatigue. So position your desk to experience as much natural light as possible and use lamps for task lighting. Proper lighting can help reduce the impact of SAD (Seasonal Affective Disorder). Steve says: "Daylight has a profound influence on our health and wellbeing. It is important for our immune system, boosts our Vitamin D levels and keeps our bones healthy. It can also reduce stress, enhance our mood and even help us sleep better. At Cala, we've increased the use of lower-sill, wider windows and made more use of roof lights and windows to stairwells and landings."
Declutter your space: Invest in good storage to keep your home office clutter-free. Buy bespoke office storage to keep files and paperwork in order. Boxes and baskets can look great on shelves or choose a desk with built-in cupboards and draws for a sleek look. Steve says: "Ample storage solutions feature throughout Cala homes to safeguard the natural flow and order of the home, serving to keep clutter at bay and promoting a functional and stress-free environment." Felicity adds: "It can be difficult to switch off from work at the end of the day if papers are beginning to pile up. Equally, from a practical point of view, a bureau or a desk with a lid can make a big difference when working from a home office with limited space."
Productive color schemes
When choosing a color scheme for your home office setup, keep the following in mind:
Blue stimulates creativity and boosts productivity, with a calming effect that reduces stress.
Red brings a sense of urgency and proactivity, but can be anxiety-inducing too.
Yellow can trigger innovative thoughts, but too much can lead to anxiety and eye strain.
Green provides a sense of balance and calm, and lessens eye strain during long hours.
Orange can encourage focus and concentration by increasing oxygen supply to the brain.
Neutrals – white walls combined with colored accents – can promote concentration.
Plants and art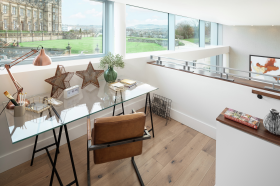 Plants in an office space have been proven to enhance air quality, concentration and workplace satisfaction, and increase productivity by up to 15%. Invest in a low-maintenance green plant or two for your workspace to benefit your physical and mental health.
A study found that art in the workplace can reduce stress (78% of businesses agreed), increase creativity (64% agreed) and encourage opinions (77% agreed). Whether you use art to create a backdrop for Zoom meetings or use wall art to invoke emotions, using art can help your mental wellbeing.
"Plants not only smell nice and promote a feeling of calm creativity, but can also introduce a sense of routine, giving you something to monitor and care for during your lunch break. Meanwhile, art – or any way you can introduce some color – helps put your own stamp on a room and create something distinct from just another corporate workplace. It's important not to forget about the 'home' element of the home office," says Felicity.
Items that make a good home office
Ergonomic chairs can reduce discomfort in workers and increase productivity by 17.7%. A survey by Westfield Health found that 60% of British workers spend the majority of their day sitting down.
Switching to ergonomic keyboards can reduce discomfort in 44% of cases, boosting productivity and morale.
Standing desks – or hybrid sit-stand models – can increase comfort by up to 60%. Try a standing desk or a device that can help raise the level of your laptop or screen to reduce issues with posture.
Using a second screen can increase productivity by up to 42%. In fact, workers are increasing relying on a second screen as par for the course in their day-to-day work.
Complement your desk setup with other accessories that are proven to boost your overall wellbeing. For example, you may want to get blue-light blocking glasses to prevent eye strain.
Studies have shown that background music – regardless of what it is – can boost work performance. A pair of noise-cancelling headphones can block out what you don't want to hear, and allow you to listen better to whatever helps you concentrate.
Steve says: "Cala homes are designed not just to allow family members to co-exist, but to really thrive together and enjoy the space they live in, whether they are working, relaxing or enjoying time together.
"In recent times, elements which enable home working have become crucial – if working from home is easy to set up and runs smoothly, this has a knock-on positive effect on our whole lifestyle. That's why we have carefully considered and designed our homes with the new WFH reality in mind."
Creating the right environment in your home office plays an important role in ensuring you can work productively and produce quality work while still maintaining good mental and physical wellbeing. Cala believes in the transformative impact of thoughtful quality and design. Every home in their collection – such as Buckler's Park Crowthorne – is created with exceptional attention to detail.