Welcome to this week's installment of F2P Friday, where we highlight our favorite Free-2-Play games. The video game market is oversaturated, and sometimes hidden gems can fall through the cracks. This is where we do all the digging for you and feature a new F2P game we know you will enjoy every week. Let's dive in!
KinderWorld
Take care of your plants and yourself in a comforting, relaxing and lush atmosphere of your own design. Play by completing daily acts of self-love that make the world a kinder place. Players will nurture their plants in-game by nurturing themselves in the real world, completing evidence-based well-being exercises like emotional naming and expressing gratitude.
RELATED: Check out more from our F2P Friday Series!
The Basics
Kinder World, by Lumi, is an anxiety-reducing app that mixes home decorating, relationship progression and plant care elements. All of the elements in the game feel exceptionally well done. The timing for the quests is low-pressure yet enticing, the variety of self-care activities lessens the chance of progress fatigue, and the art is soft and aesthetic.
It's so well balanced that I was surprised to learn that this is developer Lumi Interactive's first game. The woman-led team was inspired by their own wellness struggles at the start of the pandemic, looking for a way to prioritize their own mental health.
Just like everyone's self-care journey is different, so is the path through KinderWorld. In fact, every plant is procedurally generated, so your growth is entirely unique to you. For example, I just got my first variegated monstera leaf, but other players haven't grown one yet.
RELATED: 7 Most Anticipated Game Releases in November 2022
Why Should I Play?
So why should you play KinderWorld? I don't often recommend app games, but this one is different. First, I love that the game was a Kickstarter project. That means that this game came to life specifically because players wanted it badly enough to back it up before it was even on the market. Kickstarter backings build a special community that is so unique and integral to the in-game culture the devs are cultivating.
I've played a lot of games that are meant to reduce or manage stress, but this is my favorite so far. I love how I feel like I'm playing a game first and foremost so KinderWorld feels more like a hobby than a commitment. I also love the social aspect of it, which helps me feel connected in a low-effort way.
Did I mention how cute this game is? KinderWorld is the definition of cozy gaming, with its soft color palette, sweet characters and cottagecore-inspired decorations. I fell in love with the nonbinary samoyed named Samy, who is the goodiest messenger doggo in gaming.
RELATED: Gift Guide To Excite the Tech Nerd on Your List
finally, KinderWorld is in Early Release still technically, so there is so much content coming to look forward to. A game in the Early Release phase often has crashing issues or bugs, but so far, it has run great for me on IOS. I haven't noticed any problems at all.
Ready to make the world a kinder place for yourself? Downloads KinderWorld from the App Store on IOS and Android today.
F2P Friday: DIFFERENT STROKES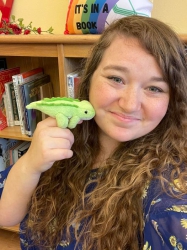 Latest posts by Lauren Darnell
(see all)
Related